Williamson Herald Candidate Profile
Williamson Herald Candidate Profile
Thank you for running for office to serve the city of Franklin, which represents much of our readership.
We would like to get to know more about you and your candidacy for the position of alderman.
Please answer the questions below for our candidate profiles featured in the Williamson Herald.
Candidate profiles will be published in the September 28 and October 5 editions of the
Williamson Herald and also included in our www.williamsonherald.com online edition.
Please email your answers to djones@williamsonherald.com and john@williamsonherald.com
by Monday, September 25th.
Please include a headshot in an electronic JPEG format with your profile. If you would rather send your photo by mail or drop off your profile in person, you can stop by our office at 1117 Columbia Avenue, Suite A in Franklin.
We are glad to take a photograph for you upon request, or use one that we already have on file.
Please limit answers for each question to about 75 words. Please note each response will be edited if needed due to space for the print edition. Thank you for your participation.
Name as it appears on the ballot: BK Muvvala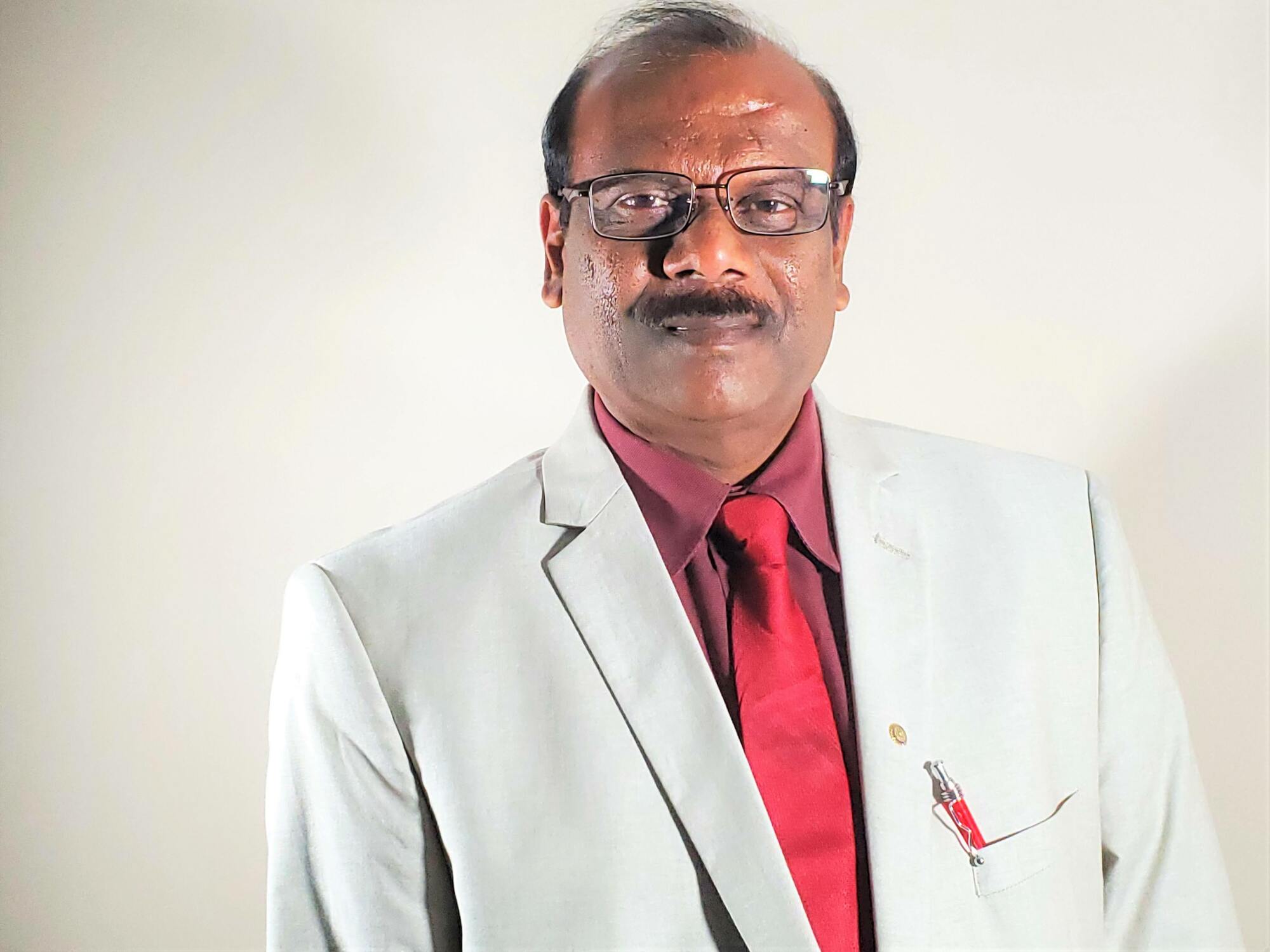 Office being sought: Alderman at Large
Address: 510 Elk Hollow CT Franklin TN 37069
Age (optional):
Occupation: Entrepreneur
BK Muvvala is a devoted family man. He's happily married to Raji Muvvala, who excels as an IT QA Engineer at BMI. They take pride in nurturing their two sons: Dr. Mohan Muvvala, a doctor and entrepreneur, and Madhav BK, an aspiring doctor in the tenth grade. BK's commitment to education and entrepreneurship shines through his elder son's success and inspires his younger son's aspirations.
Community Activities (church, civic, etc.):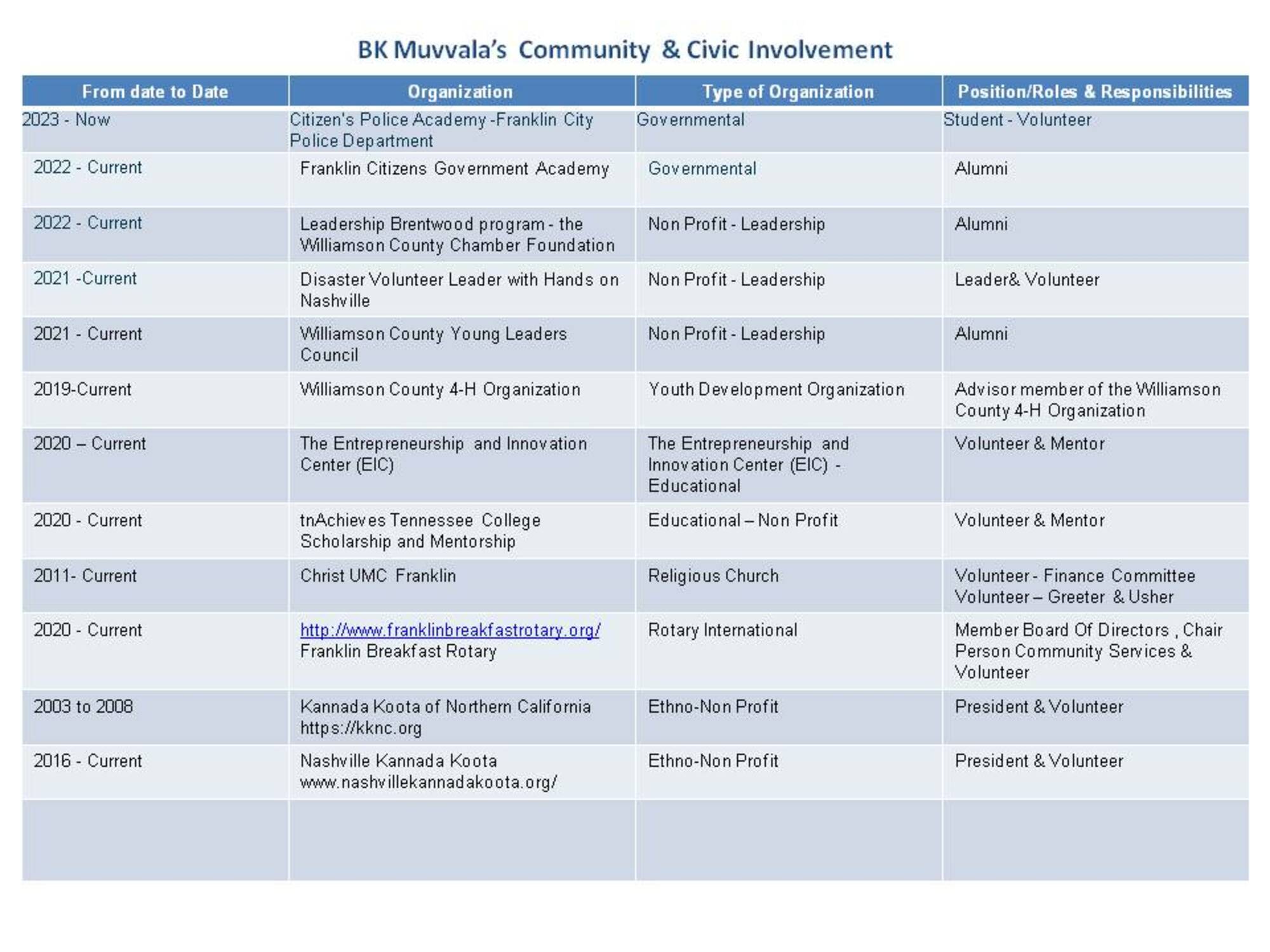 Have you ever held public office? If so, for what office and period of time?
I have not held any public office but headed and is heading nonprofit organizations
1. Why did you decide to seek the office of alderman?
BK Muvvala is the ideal leader for Franklin City, dedicated to the community's well-being. With a vision inspired by Franklinites, he aims to tackle mental health, transportation, traffic, sewage, flooding, clean water, preservation, sustainability, and sidewalks. BK plans to collaborate with BOMA and the state, providing incentives, tax breaks, zoning flexibility, and engaging tech and businesses to revitalize neighborhoods and drive positive change. He's the leader Franklin City needs.
2. What do you feel are the three most pertinent issues facing Franklin that you would most like to address if you are chosen as alderman?
Mental Health: In Franklin City, TN, I'll combat mental health challenges by reducing stigma, expanding access to care, supporting school programs, and crisis services. Collaborating with stakeholders and local providers, I'll prioritize mental health to enhance community well-being.

Traffic Congestion & Safety: To address the growing transportation demand, I'll promote smart solutions for traffic flow, safety, and alternative transport like walking, biking, and public transit.

Growth & Development: I support sustainable growth, housing affordability, and preserving local character while minimizing business regulations to foster economic prosperity and preserve Franklin's history.
3. As Franklin grows, the city's needs become more complex. Housing and land prices are rising and there is a shortage of workforce housing. Do you think this is an issue? How would you address it?
Addressing rising housing and land prices and the shortage of workforce housing in Franklin City is a priority for me as Alderman at Large. I will pursue a comprehensive approach, including strategies like Upzoning, incentivizing affordable housing, protecting existing options, and encouraging mixed-use development. Multifamily housing is a key element in creating more affordable living opportunities, reducing congestion, and improving air quality. I am dedicated to implementing these strategies to make Franklin more affordable for all residents, as multifamily housing helps increase supply and provides affordable options near work and amenities quickly and efficiently.
4. As Franklin's population continues to increase, "smart growth" is a hot topic, and some variation
of the phrase is included in almost every candidate's platform. What does "smart growth" mean to you?
.What specific strategies would you employ to achieve smart growth?
Smart growth is vital for Franklin City's future, focusing on sustainability, livability, and equity. It entails compact development to reduce sprawl, promoting walkability, cycling, and public transit. Mixed-use development combines housing, businesses, and amenities for convenience. Preserving open spaces like parks and wetlands enhances air and water quality and provides recreational opportunities.
To achieve smart growth, I'll update zoning codes, invest in public transportation and infrastructure, preserve open space, encourage infill development, and support affordable housing. Creating a smart growth plan, engaging the community, educating residents, and seeking state and federal funding will be crucial in realizing these goals. I'm dedicated to making Franklin City sustainable, livable, and equitable for all.
5. Traffic is becoming a big problem in Franklin. How would you address transportation as the city grows?
As Franklin City expands, traffic congestion is a growing concern. To alleviate this issue and enhance transportation options, I'll collaborate with authorities and officials to implement smart traffic control systems. This includes adaptive traffic signal control (ATSC), connected vehicle technology (CVT), and automated vehicle technology (AVT) to improve traffic flow and safety. Additionally, I'll invest in public transportation, enhance pedestrian and cyclist infrastructure, promote carpooling and telecommuting, and engage the community in adopting these solutions for a more livable and sustainable Franklin City.